The Suikoden Revival Movement was founded on July 31st 2012 through dedicated fans of the Suikoden series who all met on the forums of fansite www.suikosource.com.
Dissatisfied with the new direction that the Suikoden series has undertaken, along with Konami's general neglect of the original franchise, the Suikoden fandom decided that Konami must be made aware of their dissatisfaction.
The Suikoden fandom believed that Konami could be taking the series in a much more positive direction. The Suikoden Revival Movement was founded with this premise in mind. The SRM aims to revive the original Suikoden franchise as much as possible and, hopefully, pave the way for the long awaited Suikoden VI.
Campaigning actually began in November 2010 when founding members  Chris Holmesand Ryan Hughes decided to take action. Both worked hard at attempting to rally up support on the forums of www.suikosource.com. Initially, support was quite minimal and some fierce opposition was encountered. In January 2011, through the help of Suikoden fan group the True Rune Army and Suikosource.com member Mike Gitchell, Holmes and Hughes managed to spearhead a Facebook campaign which involved hitting the Konami US Facebook page hard with a constant stream of comments regarding the future of the Suikoden series. This produced an incredible snowballing effect and, after two months of deliberation, Konami US Facebook finally responded on 1st March 2011. Although the answer from Konami was not what the fans hoped to hear, this small campaign proved that there was still an appetite for the Suikoden series. Before this campaign, Suikoden was very rarely ever mentioned on the Konami US Facebook page with most fans preferring to talk about other Konami titles such as Metal Gear Solid and Silent Hill. Since this campaign, Suikoden is clearly a favourite for fans to talk about - and still is to this day.
Konami US offered the western Suikoden fan base an offiicial Konami Suikoden Facebook fan page but seem to have since, however, forgotten about this offer. Support on Suikosource.com began to gather momentum. Suikoden fan Erjo Coscolluela attempted to gather more recruits and also gave birth to the idea of a one day, online community event - SUIKODEN DAY - in which fans from all over the world could gather on Facebook to take part in fanart, cosplay and other competitions and share their general love for the Suikoden series. SUIKODEN DAY 2011 was to take place on December 15th 2011 with Marina Paez Andreo amazingly and selflessly providing all the prizes for the event competitions.
After the announcement of Konami's newest addition to the Suikoden series Genso Suikoden: Tsumugareshi Hyakunen no Toki, in September 2011, fan opinion was further devided as to the future of the Suikoden series.
In the meantime, Ryan Hughes received an interesting response to a rather proffessional letter he composed to Konami US.
Chris Holmes was also busy assessing whether or not future campaigning would be worthwhile. Was the Suikoden fan base still big enough? Were the numbers there? Was the passion there? Would the goals be realistically achievable? Eventually, he decided yes.
Holmes then went on a major recruitment drive which would keep him busy well into 2012. His efforts were to be covered by Jason Schreier of Kotaku.com which also brought in many new attendees for the upcoming SUIKODEN DAY 2012.
In July 2012, after a substantial following had been obtained, Suikosource.com member Matze Micheel approached Holmes and Hughes and, together, the trio founded the Suikoden Revival Movement.
Throughout the beggining of 2013, the SRM held a Rune Of Revival competition in which fans could design their very own True Rune, the winning design going on to represent the movement for all future campaigns.
The Suikoden Revival Movement now has Indonesian and Japanese translation teams to help reach out to the respective audiences. There is now also a 4th admin, Dan, who has contributed much to the movement.
On July 31st 2013, after exactly one year since the birth of the Suikoden Revival Movement, a new shift on the movement's campaign focus was announced: Operation Blinking Mirror. The aim of OBM is to target Konami Japan's Headqaurters with a mass mail in campaign in the hope that KCEJ will see just how much love and demand there still is for the Suikoden series. OBM hopes to show Konami Japan how important the Suikoden series still is and how much demand there is for the Suikoden series within the modern gaming market. From December 10-12 2013, fans from arond the world sent Konami Japan letters, fanart, cosplay pictures, sculptures and CD arrangments; anything creative that is sure to catch Konami's eye. The mass mail-in campaign, from these set days, is sure to make an impact and not go unnoticed at Konami Japan. The Suikoden Revival Movement are still awaiting a response from Konami Japan.
On April 23rd 2014, the SRM held a mass Twitter campaign named Operation Flaming Arrows . OFA was aimed at Sony Computer entertainment and sent the broad message Please help Konami bring back Suikoden. This statement was intentionally left to the interpretation of Sony who may have regarded this as more than simply asking for a re-release of Suikoden II on the Playstation Network. OFA was aimed towards the main Sony Twitter US account as well as Sony executives; Gio Corsi, Shahid Ahmad, Shuhei Yoshida and Adam Boyes. The Suikoden Revival Movement have yet to hear a reply from Sony.
The goals of the SRM are as follows:
Suikoden I and II on digital distribution worldwide such as PSN, XBLA, Steam Android and iOS
Suikoden III-V on PSN and XBLA worldwide
Localise Genso Suikoden Tsumugareshi Hyakunen no Toki outside of Japan
Localise the Suikoden Manga/novels outside of Japan
To lobby Konami for greater and more wide-spread advertising of the Suikoden series.
For Konami to distribute various Suikoden merchandise outside of Japan, such as: soundtracks, posters, and art books.
'For Konami to launch an official, English language Suikoden Facebook fan page
'' Of course, the main goal I'm sure we all want to see here is a main title Suikoden, i.e. Suikoden VI. However, we feel it is more beneficial to revive and promote the older games of the series before we help Konami push for a brand new main title Suikoden.''
Achievements
Edit
In October 2012, Jim Sterling of Destructoid.com covered the efforts of the SRM.
In December 2012, the Suikoden Revival Movement was to spotlight in the
Official Playstation Magazine UK
. SUIKODEN DAY 2012 was also to take place on December 17th to coincide with the original release date of Suikoden II.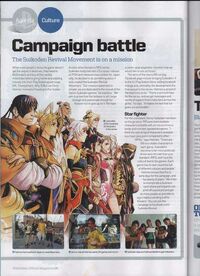 In January 2013, the SRM spearheaded a Facebook campaign in which over 1,000 members took part which encouraged a positive response from Konami US Facebook. The SRM is also featured in the Operation Rainfall campaign hub.
In March 2013, Suikoden fan and digital artist David Anthony Lucas managed to get some of the results of SUIKODEN DAY 2012 printed in UK fantasy and sci-fi art magazine - ImagineFX.
Konami Twitter UK also said they would look into why Suikoden II has not yet been released on the Playstation Network.