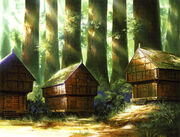 The Alma Kinan Village is located deep within Kuput Forest and is hidden behind a invisible force field causing anyone that attempts to enter the village to return back to the beginning of the forest. Inside the village a seal on the True Water Rune is hidden. The populace of Alma Kinan is mostly female however, Rody, a apprentice of Estella and a male Duck known simply as Mr. Duck can be found.
It's implied that Alma Kinan females kill the males after mating, as Chris asks Yuiri where are the males and she tells her; "It's better for you not to know", implying that Alma Kinans kill them.
Please help us improve Suikoden Wiki by creating or editing any of our articles.
Community content is available under
CC-BY-SA
unless otherwise noted.