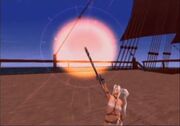 The Beauty Attack (美女攻撃, Bijo Kougeki, lit. Beautiful Woman Attack) is a recurring unite attack in the Suikoden series. It usually involves a trio of attractive women from the 108 Stars of Destiny coming together to causing significant damage and sleep towards the enemy.
Suikoden
It inflicts 0.4x damage to all enemies, in it Cleo, Eileen and either Valeria or Sonya (depending on which is in your party) will line up in a row and cause many hearts to appear that fly and fall all around the enemy damaging them. Has chance to cause sleep status on enemies (sleep status doesn't show on screen but enemies under this effect will automatically skip their turn)
Required Members
Optional Members
Suikoden II
The Beauty Attack deals 0.25x damage to all enemies, and has a 60% chance of causing sleep. Chance of putting enemies to sleep is increased if the Sexy Wink is equipped on one of the characters. In it, the three women line up in a row and hearts and pink clouds surround the enemies doing damage to them and maybe putting them to sleep.
3 of the following characters are required
Suikoden IV
The Beauty Attack deals 0.7x total damage to all enemies. In it the three ladies line up in a row and look up into the sky. Then Jeane forms a ball of energy with her staff, then Kika jumps up and cuts the ball and creates a heart, then finally Ameria leaps into the air and cuts the heart in half. The split hearts hit the enemy doing damage.
Required Members
Gallery
See Also