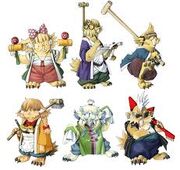 General Overview
Beavers are a small race of furry builders who live along the Feitas River in Falena. Although closely resembling natural beavers, the Beaver race in the Suikoden series is generally significantly larger and lacks the prominent tail. They are skilled builders; when it comes to building dams, they have no rival. Their home, the Beaver Lodge, is located in an isolated spot in Falena, just north of the Waterfall Basin.
In general, Beavers have avoided human contact as much as possible, since most encounters have proven costly for the Beavers. As a result very few beavers are considered literate in human writing. Their life spans are significantly shorter than humans, with Beavers typically living half as long as humans (the oldest beaver was recorded to have lived fifty years). Despite their small size and unintimidating appearance, they are unmatched on the rivers when it comes to dealing with traditional wooden river crafts.
The first notable encounter with humans occurred when the Godwin Faction forced the Beavers to built Hatred Fortress to prevent the recovery of then-barren Lordlake. The harsh work conditions caused a lot of resentment amongst the Beavers and following the completion of the dam, they severed all ties with humans, with the few exceptions of some Beavers who chose to live amongst human society. As the Falenan Civil War erupted, Prince Freyjadour Falenas came directly to the Beavers to help dismantle Hatred Fortress.
Although hesitant to deal with humans again, the Beavers felt somewhat responsible for Lordlake's problems and agreed to help. They did not, however, become allies of the Loyalist Army until after their village was nearly destroyed by Nether Gate as part of the Godwin's extermination policies. The Beavers proved steady allies of the army for the duration of the war and following the creation of the New Parliament, the Beavers were granted Falenan citizenship and a voice in the Parliament.
Some prominent Beavers include: Fuwalafuwalu, Maroon, Muroon, Miroon, Meroon, and Moroon.