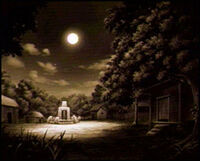 Established by followers of Sierra Mikain, the bearer of the Moon Rune, Blue Moon Village was a peaceful and thriving village for centuries.
Overview
People were drawn to the village as they wandered throughout the forest nearby, often seeking death. Sierra was able to use the power of the Moon Rune in order to save those who had wandered nearby, turning them into vampires. For centuries, those within the village knew nothing but peace, as the Moon Rune, placed in the center of the village, kept them from feeling any bloodlust.
However, one day, in SY 90, Neclord, a charismatic new recruit to the village, stole the Moon Rune during a village ceremony, instantly turning the peace of Blue Moon Village into chaos. The vampires of the village faced a terrible choice: to feed upon the blood of living beings, or to simply perish. Some simply chose to perish while others chose to continue their existence by feasting on blood; Rean Penenberg, a high ranking member of the village, was one of the many who chose to embrace his bloodlust. Sierra, immune to the bloodlust due to her being the true bearer of the rune, was heartbroken at the loss of so many friends, and left the village herself; she became a vampire hunter to hunt down those who had left the village and were now taking innocent lives.
With no one left, Blue Moon Village became an empty husk of a place, now only haunted by ghastly creatures.
Trivia
It's one of the oldest villages mentioned in Suikoden.
The name Blue Moon was misunderstood in relation to the Moon Rune.
The only inhabitants confirmed are: Sierra, Rean and Neclord.