Bows
are a common weapon in the series. Bows are automatically gained by the characters in the main series, while in
Suikoden Tierkreis
; bows can be found in the treasure chest, weapon shop or given by the other characters.
Compound BowEdit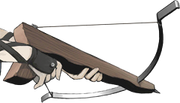 Crossbows
, also known as a bowgun, Is a rarely recurring weapon in the series. It is automatically gained by the characters and it's strength is dependant on it's current level; crossbows are excellent choices for consecutive hits in one turn.
The following Runes can be used for characters with crossbows.
Recurve BowEdit
Bow Users
Edit
Suikoden:
Suikoden II:
Suikoden III:
Suikoden IV:
Suikoden Tactics:
Suikoden V:
Suikoden Tierkreis:
Suikoden Suikoden: The Woven Web of a Century:
Crossbows only appear three times in the series, Suikoden III, Tactics and V.
Community content is available under
CC-BY-SA
unless otherwise noted.