Branky appears in Suikoden III.
BackgroundEdit
Branky is the wolf-like puppet of Mel. He is always saying rude things to any people he/she met. His true nature is still a mystery.
AppearanceEdit
PersonalityEdit
Branky's alledged gender can be disputed as Mel refers to it as both a he and a she through out the course of the game.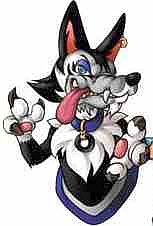 Please help us improve Suikoden Wiki by creating or editing any of our articles.
Community content is available under
CC-BY-SA
unless otherwise noted.