Suikoden III on PSN US • Suikoden III on PSN EU • Suikoden III on PSN JP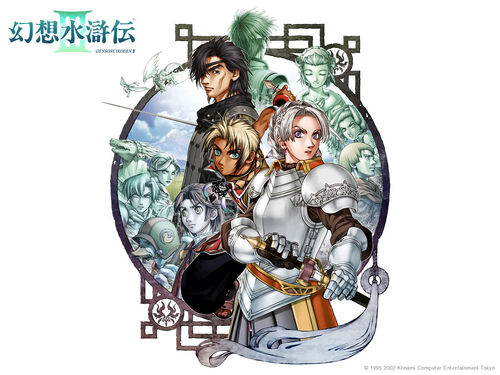 Reason to buy Suikoden III
Edit
You can choose a Champion.

There are three selectable heroes that you can pick, they are:

Hugo - He is only child of the Karaya Clan Chief Lucia. He's young, energetic and according to one of the Karaya Clan villagers the best beast rider in the village. He's close friends with Fubar and Sgt. Joe and best friends with Luce's youngest son Lulu.
Chris - Everybody in Zexen adores her and her knights have undying loyalty to her. She became the Captain of the Zexen Knights after Pelize and Galahad were killed in battle. She doesn't like the fame and idolizing she received just from serving her country, but puts up with it.
Geddoe - He fought alongside the Flame Champion in the First Fire Bringer War, and helped protect the Grasslands. After the war, he wandered the lands until about forty years later when he finally joined the Harmonian Southern Frontier Defense Force.

You can play it again and see the story in different point of views.
Aside from the three protagonist and minor characters there are another 105 characters to recruit.
Apart from having 3 different stories for protagonist there are also another 3 playable characters that will open up as the stories grows deeper.
There are party battles, one-on-one duel and army battles.
Mini games are also available after recruiting certain characters.
You can run your own castle, which also houses your recruits. Talking to your recruits, you can also make purchases at their item shops, play minigames hosted by them and much more!
There are returning characters from the first two installments, Suikoden I and Suikoden II.
It returns with unite attacks (or Combo attacks), a special attack by two or more characters.
Runes, the magic of the game, have an amazing beauty and have great power.
No need to worry about your suikoden III copy getting old and worn out, by purchasing Suikoden III on the psn network, you'll forever have Suikoden on your account!
Don't forget! By buying Suikoden III on the psn network, you're helping Konami out and they may decide to make a new Suikoden game!
Please help us improve Suikoden Wiki by creating or editing any of our articles.
Community content is available under
CC-BY-SA
unless otherwise noted.