The Dauntless was once an unknown vessel nestled in the cliffs of the Kingdom of Obel that soon became the flagship of Razro' forces during the Island Liberation War.
King Lino En Kuldes personally picked the architect Tov to design a massive ship for the kingdom to be used in times of great duress. Although the ship was commissioned and ready for action, troubling events unfolded quicker than Tov expected, thereby shortening the ship's respite. Following the invasion of Obel by the Kooluk Empire, Razro, Lino, and several of Obel's subjects valiantly escaped imprisonment by deploying the Dauntless before Kooluk could take over the entire island nation.
From this moment on, the Dauntless was both a symbol of liberation and a recruiting tool that attracted a variety of allies, including citizens of Na-Nal, Nay Island, Iluya, Middleport, Razril, and even pirates residing in the Nest of Pirates.
Due to its sturdy design and remarkable manoeuvrability for such a massive ship, the Dauntless saw action on the front lines in every major naval battle against the Kooluk Empire.
Life Inside the DauntlessEdit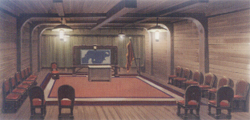 The Dauntless was so massive that it was practically a castle on the high seas. There were reported to be five floors, each with a variety of rooms and shops. Everything could be found on the ship, including an inn run by the beautiful Louise, a blacksmith's workshop founded by Adrienne, a lottery station assembled by Bang, a rune shop run by the lovely Jeane, a training facility sponsored by Reinhold, a bathhouse run by Taisuke, and a confessional booth run by the maniacal Keen.
In short, life on the Dauntless could rarely be considered dull for the ship's population who had to stay on-board for long periods of time.
At the event of naming the ship, Tov will suggest "Dauntless" as the ship name, which means "fearless".
Please help us improve Suikoden Wiki by creating or editing any of our articles.
Community content is available under
CC-BY-SA
unless otherwise noted.