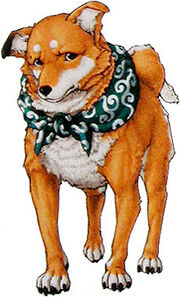 Dogs appear in every Suikoden game. There are five unique dogs in Suikoden III and they are all members of the heroes' army. They each carry a bag that has a stone inside it, except for Connie, whose bag contains strawberries. Koroku is the only dog in the series that is one of the 108 Stars of Destiny while the others are supplemental allies, similar to the Flying Squirrels in Suikoden II. If Koruku is the onscreen character, he will understand what the other dogs are saying when speaking to them.
The heroes need to find the dogs one by one in different places around the Grasslands, which makes them difficult to recruit. If the five dogs are successfully recruited, they can perform a Unite Attack called Bow Wow Attack.
Trivia
The dogs' breed in Suikoden III is Shiba Inu.
If any of the dogs are put into the army or added to the main party, their body will shake.
Connie is the only female among them.
Out of the five dogs, Kogoro is the only one that can stand on two feet.
External Links