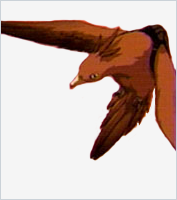 Dominguez appears in Genso Suikogaiden Vol. 1 and Genso Suikogaiden Vol. 2.
Dominguez is a parrot used by the Harmonian Southern Frontier Defense Force. His main talent lies in delivering messages from the HSFDF headquarters in Caleria to other operatives in distant locations. As a parrot, Dominguez is very hard to detect as a spy of any sort and is able to deliver messages during battles. Dominguez was often spotted delivering messages to Nash Latkje.
Community content is available under
CC-BY-SA
unless otherwise noted.