Galahad had a brief unseen role in Suikoden III as the fallen Captain of the Zexen Knights. It was his and Pelize's deaths that lead to Chris Lightfellow becoming the acting Captain of the Zexen Knights.
Biography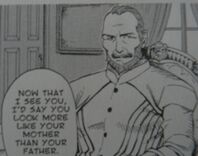 Galahad was the captain of the Zexen Knights after the former captain, Wyatt Lightfellow, abandoned the post. He served as the captain for seventeen years until he was killed, along with Vice-Captain Pelize, during a battle with the Grassland tribes that had surrounded him.
He was succeeded by Chris Lightfellow, although it would be some time before Galahad would receive a proper state funeral.
Trivia
Galahad's role is expanded in the Suikoden III Manga, where Chris served directly under him at an early age. He is portrayed as being a father-like figure to her and is seen in a few flashbacks throughout the series.