Greenhill City (グリンヒル市) is a location in Suikoden II.
Overview
Greenhill is located to the northwest of Two River City, in the Greenhill Principality. Greenhill City is one of the 5 major State cities, the others being Muse City, South Window City, Two River City, and Tinto City.
History and Lore
City-State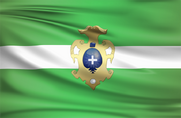 The newest of the five city-states, Greenhill principality was part of Muse until SY 373, when Greenhill seceded from Muse and insisted on autonomy due to what is currently called New Leaf Academy, as the premier institution of higher education. Historically, this academy, formerly known as the Grand Leaf Academy, was created in order to educate future government officials and politicians as well as diplomats for Jowston. The region has always relied heavily upon the academy for income, but this had become more troublesome as enrollment fell harshly prior to the outbreak of the Dunan Unification War.
The Greenhill region struggled during its time as a city state with some dispute with the Karaya Clan; former mayor Alec Wisemail even participated in a scheme to murder the late Kianu, former chief of the Karaya Clan.
Highland Conflict
During the Dunan Unification War, Greenhill was first attacked by the Highland's 4th Army. Greenhill managed to hold off the 4th Army due to the help of an "expert strategist, "Nash Silverberg", who was really the Harmonian agent Nash Latkje. Their ability to withstand the Highland Army was only temporary; in a clever strategy orchestrated by Jowy Atreides a few months later the town was flooded with Muse refugees, reducing the food supply of the enclosed principality dramatically, and infighting quickly broke out between the refugees and the citizens, leaving them no force to fight any invading army with.
Teresa Wisemail, the then-acting mayor of Greenhill, was forced by the Highland invasion to go into hiding, lest she be forced to completely had over Greenhill to them. Catching wind of the situation in Greenhill, Riou and several other Allied Army soldiers rescued Teresa, who would become an important ally in their army. Forced to leave her homeland, she promised she would return, and near the end of the war, made good of that promise, liberating the city from Highland and returning to great fanfare by her people.
Post Dunan Unification War
Following the end of the Dunan Unification War, Teresa returned home to Greenhill and succeeded her father as mayor of Greenhill. This post was not to last, as soon following the war Teresa became Acting President of the Dunan Republic, and following the elections of the next year, became the first President of the Dunan Republic.
Shops
Academy Shops
Gallery
References