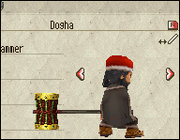 Hammers
, are a smash type weapon and appears occasionally in the
series
. Only
few characters
have this as their weapon. In the main Suikoden games this weapon is automatically set on the character, while in Suikoden Tierkreis, it can be found in treasure chests, weapon shops or given by other characters.
In most cases, hammers are heavy weapons to use, as noted by Rita[1]. Not everyone may be able to hold them, and it takes time to wield one. Due to the weight, it may cause the character's speed to go down, but the hammer makes up for it with it's great strength and defense. In some games, hammers can use smash on an enemy, causing the enemy to become unbalanced.
Hammer Users
Edit
Suikoden:
Suikoden II:
Suikoden III:
Suikoden IV:
Suikoden Tactics:
Suikoden V:
Suikoden Tierkreis:
References
Edit
Community content is available under
CC-BY-SA
unless otherwise noted.