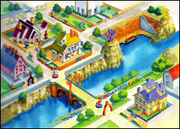 Haud (ハウド村, Haudo-mura) is a town created by Salum Barows for the purpose of providing the artists of Falena an outlet for their creativity, giving them full design of the town.
Most of the artists on the project now live in the town itself, working on new projects and giving it ever more artwork to display. The town is known throughout Falena for its "unique" artwork, bright colours and unusual architectural design. In fact, it was the artists of Haud that designed the flag later used by the Loyalist Army during the Falenan Civil War.
Although most of the citizens of Haud are genuine in their adulation of their art, several phonies have slipped through, posing as artists catering to Salum Barows' tastes to further their own prosperity.
References
Edit
Please help us improve Suikoden Wiki by creating or editing any of our articles.
Community content is available under
CC-BY-SA
unless otherwise noted.