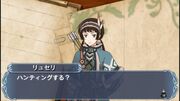 Hunting is a minigame in Genso Suikoden: The Woven Web of a Century. It's located in the upper right corner of the Lake Fortress.
Overview
This minigame is managed by Luceri.
After selecting which battle you would like to try, you will be able to configure the party of your choice to fight the monsters. Even if you are in the middle of a story quest that has some fixed characters that normally cannot be removed (ex. Regius), you will be able to remove them for Hunting. However, if a character is not available due to a story event (ex. Jagwan or Gijellega) you will not be able to select them.
Each battle is named after a characteristic of the enemies that you'll fight. The level of difficult is marked with stars, with one star being the easiest and five stars being the most difficult.
Each battle has a time limit, and if you can finish it before the time runs out, you'll be able to get reward items or money. If you have finished the battle once, you won't get any rewards (but you will still get the EXP from fighting the monsters).
You can only fight once a day. The battles will appear after reaching certain points during the game. Be sure to check if there are new ones every time you return to your HQ.
Mission List