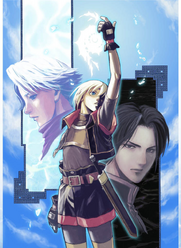 The
Island Liberation War
describes the conflict between the
Island Nations
, which eventually unified under
Lazlo
and the
Kingdom of Obel
, and the
Kooluk Empire
.
The war effort officially began as a unified effort, shortly after the Kooluk Empire built their Giant Rune Cannon and destroyed half of Iluya.
The war ended with the attack on Fort El-Eal, where Graham Cray was defeated and the Giant Tree was destroyed. Then, the Island Nations become formally the Island Nations Federation and a Truce was instaured between Kooluk and Island Nations Federation.
The Island Liberation War begins SY 302 and ends on SY 307.