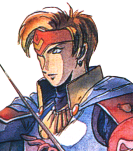 Kilawher Shulen was the admiral of Barbarossa's navy during the Scarlet Moon Succession War as well as one of the original Six Great Generals. Shortly after the Succession Wars, Jowston pushed their forces into the northern areas of the Scarlet Moon Empire. The strategist Leon Silverberg suggested plans to rid the Empire of the Jowston invaders; these plans resulted in what came to be known as the Kalekka Incident. Kilawher was enraged by the plans and called Leon despicable for his lack of humanity. However, as there was no other choice, Kilawher reluctantly agreed to the plan.
Kilawher died in an accident a few years after. She had a daughter in SY 431, Sonya Shulen, who later succeeded her as admiral.
Community content is available under
CC-BY-SA
unless otherwise noted.