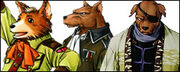 Kobolds are a race in the Suikoden series.
Details
Kobolds are a race of anthropomorphic dogs, standing generally around the same height as humans (though typically shorter). Interestingly enough Kobolds, despite their vast differences from humans, often have an easier time integrating themselves amongst humans as opposed to other races. Much of their culture seems to be influenced by humans, including their architecture. In general Kobolds place great focus on fighting, which results in what appears as a low level of intelligence. This is not to say Kobolds are stupid, however, as they can be quite intelligent if they put forth the dedication. This may be slightly hampered by the relatively short lifespans they live, which tend to only be 70% of the average human life.
Currently there are only two known Kobold habitats - both on the Northern Continent. In the Toran Republic, the Kobolds share their home in the Great Forest with the Elves and Dwarves. Given the rather elitist nature of both races, the kobolds tend to have a difficult time interacting with either one and keep mostly to themselves. Before the Gate Rune War had erupted, Kwanda Rosman had used the power of the Black Rune to drive the Kobolds into absolute obedience - leaving only Kuromimi unaffected. Eventually this was put to a stop with the help of the Liberation Army and the Kobolds became part of the war effort. Following the war, Kuromimi was made the chief of the Kobold Village in the Toran Republic.
In contrast, the Kobolds of the Dunan Republic have done better to integrate themselves into human culture. Although a number of Kobolds do keep to themselves in their own section of Two River City, a vast majority of their population coexists with the Wingers and humans of Two River. The Kobolds have traditionally represented the military might of Two River, even though they were kept carefully segregated from the humans. The prejudice between the three races came to its boiling point during the Dunan Unification War when Highland Forces attempted to capture Two River. With the help of Riou, however, the three races were able to form a coalition against the Highland Army and drove them from the area. Eventually Two River became an ally with the New State Army, with General Ridley Wizen officially representing Two River's might.
Kobold Enemies
Although Kobolds are mostly a friendly race, there is an instance when Kobolds were seen attacking people. When Kwanda Rosman used his Black Rune to subjugate the Kobolds of the Great Forest, they became insane and could no longer distinguish friend from foe.