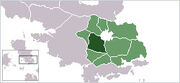 The Kunan region, located on the southern banks of the Lake Toran, is famous for its high variety of specialists in various fields that reside in it. Kunan is the home region of many famous specialists including physicians, engineers, and artists of all sorts of mediums. The area has seen many famous residents, including such master artisans such as the famous painter Ivanov, the bard Kasios, the dancer Mina, the master appraiser Jabba, the scientist Kamandol, the healer Liukan, and was even home to the famous runemaster Jeane for some time.
The reason the area has such a high focus on the arts can mostly be placed to Scarlet Moon Empire General Milich Oppenheimer, who was sent to guard the Kunan region. While serving as magistrate to the area, he encouraged an extensive pro-art policy, even inviting the famous artisans of the region to completely redesign Scarleticia Castle in accordance with the Great General's tastes.
The climate of the Kunan area is mild and warm, leading to pleasant weather.
Locations In KunanEdit
References
Edit
Community content is available under
CC-BY-SA
unless otherwise noted.