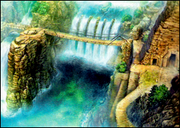 The holy, mountainous land in northern Falena, Lunas is the most sacred place in Falena, due to the belief that the first Queen of Falena descended here, bringing with her the Sun Rune, and with it, life back into Falena. Visitors are not welcome within the holy land; they once were, but due to an influx of gold-panning con artists, a decision was made to disallow anyone but the royal entourage.
Large gold deposits exist upstream from Lunas, but mining is not allowed as it would remove the forest, cause pollution to the Feitas, and is considered too damaging to the surrounding environment to be allowed. Despite this, many Falenan nobles have pushed for mining to be authorized in the past.
It is part of each future Queen's right of initiation to go to Lunas for a purifying ritual. The area is governed by an oracle, and is staffed primarily by holy men and women. In addition, each year in early spring, a rite is performed to bring peace and prosperity to the land. The only outsider who is allowed to attend is the Queen of Falena. This is not so much a rule as a tradition.
One branch of the Feitas runs through Lunas, with a waterfall cutting through the settlement. Gold dust from the deposits upstream is often collected in the river, giving it a beautiful glistening quality.
Although Lunas was occupied by Godwin forces during the Falenan Civil War, no damage was done to the settlement due to the respect the drafted Godwin troops held for the holy land.
Lunas is also the location of a secret passage, leading to the Ashtwal Mountains, from where the first Queen of Falena emerged.
Please help us improve Suikoden Wiki by creating or editing any of our articles.
Community content is available under
CC-BY-SA
unless otherwise noted.