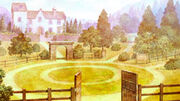 Na-Nal
is a small island and also name of the main city on the island. It is located just a small ways east of
Nay Island
and southeast of
Iluya
.
As the rumors went (and were finally proven to be true), there is a settlement of elves nearby, located at the Great Elven Tree.
Upon disembarking, the player lands at the Na-Nal Island Harbor, which contains the area's trading post. Going straight ahead will lead the player to the Seaside Town, which houses an equipment store. Going straight will lead the player to the Hillside Town, while taking the turning will lead the player to the Open-Air Bath. The Hillside Village houses the Rune Shop. Beyond the village is the Town Square, where the residence of the chief of Na-Nal can be found. The Inn is also located here. Both the Harbor and the Town Square are occupied by Kooluk soldiers. Beyond the Town Square lies the Na-Nal Gorge to the right, an area infested with enemies, which leads to the Great Elven Tree.
Please help us improve Suikoden Wiki by creating or editing any of our articles.
Community content is available under
CC-BY-SA
unless otherwise noted.