The naval, and main, branch of the Kingdom of Obel's armed forces prior to its joining of the Island Nations Federation in SY 307.
Traditionally the most powerful naval power of the island nations of the Kuknasi Sea, the Obel Navy has traditionally been the leading power defending the region against expansionist nations such as the Kooluk Empire.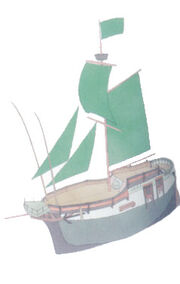 However, despite this regional strength, the Obel Navy, when compared to larger continental nations, is small and easily overwhelmed. This is shown in 292, during the Obel-Kooluk War where the Obel Navy would have eventually succumbed to the Kooluk Imperial Navy if not for the Queen of Obel's use of the Rune of Punishment. Over a decade later, during the Island Liberation War, the Obel Navy fell in short order to a concentrated Kooluk attack, highlighting the limitations of the force. When Obel Island was liberated in 306 by the Island Liberation Navy, it became clear that an integrated navy across the Kuknasi Sea would be needed to safely defend the region.
Following the foundation of the Island Nations Federation, a joint navy was established although it is unknown how long it took for the Obel Navy to be integrated into the new Island Nations Federation Navy or whether it still functions as a sort of home guard even today for the Kingdom of Obel.
Please help us improve Suikoden Wiki by creating or editing any of our articles.
Community content is available under
CC-BY-SA
unless otherwise noted.