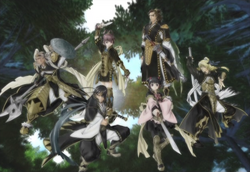 "Every new member of the Queen's Knights, from Sir Kyle onward, had to win the confidence of Commander Ferid. He's made sure they're all hardened and ready for battle at a moment's notice, no matter how young they are!"
—Sol-Falenan Noble, Suikoden V
A group of Falenan knights who serve directly under the royal family as personal bodyguards. Their history dates back to the founding of Falena, but they were originally a part of the Imperial Defense Knights, which consisted of hundreds of members. When the capital of Falena was relocated to Sol-Falena from Stormfist, an Imperial Defense Corps was organized separately. In the past, membership of the Queen's Knights was restricted to men only, although this rule was later overturned.
The Queen's Knights were then assigned as 'personal bodyguards' to protect the Queen and her closest relatives alone. Their numbers were also drastically reduced, with less than ten at any given time. Being chosen as a Queen's Knight, therefore, meant being recognized as one of the most able warriors in Falena.
Overview
After the Falena-New Armes war of 441, only three members of the Queen's Knights remained, the others either having died on the field of battle or suffered injuries so great that they could not continue their service afterwards. Ferid Egan, Commander of the Queen's Knights, Galleon and Zahhak were the only Knights to keep their titles. Following this, new members were recruited, drastically reducing the average age.
When the Falenan Civil War (449-450) began with the Godwin coup d'etat at Sol-Falena, Queen's Knights Alenia and Zahhak betrayed the royal family, siding with the Godwins and tarnishing their reputation. Furthermore, Queen's Knights Galleon and Miakis both worked, for a time, under the illegitimate Godwin-backed administration, tarnishing the reputation of the organisation even further.
Traditionally, the Commander of the Queen's Knights was the husband of the Queen, as appointed by the Sacred Games but this tradition was abolished in 450 after the Falenan Civil War with the Prince of Falena, Freyjadour Falenas, being appointed to the position.
Queen's Knights
Gallery
Trivia
Gizel is not considered as commander after the Sun Rune war.
Childerich is not considered a Queen's knight by the end of the war, mainly do to his appointment by the Godwin family. An his sadistic sociopath tendencies to kill and hurt civilians which is unbefitting for a Queen's knight.
Officially, Freyjadour decides to be the commander of the Queen's Knights, and the player can see the last scene where Prince and Lyon are the new members.
When Sol-Falena is released by Loyalist Army, the player has the opportunity to have the first and last battle between all Queen's Knights in Sun Palace. (Freyjadour, Lyon, Georg, Kyle, Miakis and Galleon against Alenia and Zahhak.)
All (playable) Queen's Knights along with Prince can perform the unite: Falena's Finest.