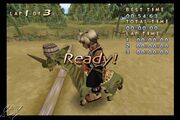 The Racing Game is a minigame in Suikoden III in which your character (i.e. Hugo, Chris, Geddoe, Thomas or Koroku) race around the track three times on the back of a horse trying to get the shortest combined time. Also the difficulty of the game can be increased from there being no obstacles to some to finally many. The obstacles can be avoided or jumped over. If you manage to beat the current record you're awarded a prize.
While playing as Hugo, if Fubar is in your party he'll become your mount instead of the Karayan Horse. It should be worth noting that Fubar has terrible cornering skills and will require more space to turn.
Koroku does not ride a horse, but instead runs the course himself. Also he can not jump over the obstacles.
One of the prizes for beating the Riding game is one of the Recipes for Mamie.
Community content is available under
CC-BY-SA
unless otherwise noted.