Radat Town is a location in Suikoden II.
Radat Town, built directly on the mouth of the Dunan River, is an entryway into Dunan from the Toran Republic, for those travelers taking Banner Pass. However, this route is relatively demanding, requiring a walk through both Banner Pass as well as booking passage in a ship in Banner Village. The journey is somewhat unpopular, and few choose to go through this route in an effort to get to Muse. Despite the low amount of visitors coming through, the area surrounding Radat Town on the river where is always very busy, as fishing is the town's main industry.
During the Dunan Unification War, Radat Town was a front within the war, ultimately being taken by Highland nearly three times before the Allied Army finally drove them out of the area. Following the end of the Dunan Unification War, Radat Town remained under the Dunan Republic's control, as part of the South Window principality.
People of Interest
Edit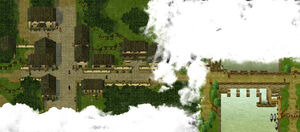 References
Edit
Community content is available under
CC-BY-SA
unless otherwise noted.