South Window City (サウスウィンドゥ市) is a location in Suikoden II.
Overview
South Window is a city located to the south Dunan Lake and Kuskus Town. It is one of the 5 major State cities, the others being Muse City, Two River City, Greenhill City, and Tinto City.
History and Lore
South Window City was the capital of the Dunan Monarchy before its collapse in 252, when it became an independent City-State for over fifty years. It was reorganized as a principality among the City-States of Jowston in 314.
Toran Conflict
Its placement near to the border it shares with Toran Republic is a mixed blessing, during many times in the past, the former Scarlet Moon Empire and present day Toran Republic had battles against the South Window forces. In SY 447, South Window troops joined with Tinto forces in invading the Scarlet Moon Empire as it was occupied with internal strife during the Succession War, taking Kalekka before being driven out by Barbarossa Rugner's forces.
In SY 456, soldiers from South Window and Tinto would invade again, this time in response to a letter sent by Mathiu Silverberg warning of a (false) Scarlet Moon attack. The troops managed to occupy Senan for some time following the end of the Toran Liberation War, but in SY 458, South Window withdrew when Toran Republic forces invaded in order to reclaim the region. The South Window withdrawal, effectively leaving the Tinto forces alone to fight for themselves, led the Tinto City-State to somewhat resent South Window as they too, were forced to pull out of the region.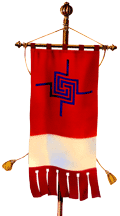 During the Dunan Unification War, South Window was the second principality to fall to Highland forces during the Dunan Unification War, after Muse. Despite the execution of Granmeyer, the mayor of the capital, and thus the region, the area was soon liberated by the fledgling New State Army.
Although parts of the principality would come under renewed Highland occupation as the war continued the presence of the Allied Army headquarters at North Window Castle ensured that the area would not be subjugated.
After the war, South Window would become one of the founding principalities of the new Dunan Republic, much as it had become one of the first supporters of the City-States of Jowston many years earlier.
Shops
Stars of Destiny
Gallery
Notes
There is a lot of discussion about the proper translation of this city's name, along with that of North Window Village. The Japanese is ウィンドゥ, which is one of two generally accepted ways to write the pronunciation for the English word "window." In Japanese, ウィンドウ is used to mean a window on a computer or is sometimes used for the window shop displays. It can also be used to show the pronunciation for the word "wind," although ウィンド or ウインド is more common.
References