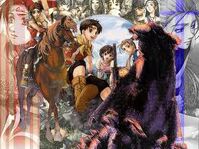 Double beat rune : On your journey to Kyaro the first time, you will encounter Cut Rabbit, there's a small chance they will drop Double beat rune which remains useful throughout the game.
Fury rune: The only place to purchase this rune is from Muse rune shop's rare finds, this city will be inacessible for a long time so better to stock up as many as you can. Once you bought the rune, wait for 30 mins and save your game, check rare finds to buy if it appears, if it doesnt, reload the game and cehck until the rune shows up. It's quite expensive though, but easy to afford if you do the Matilda glitch below.
Matilda Glitch: This is a permanent bug of the game which let you push the supposed to be non budgeable gate between Muse-Matilda. Once you get over to Matilda territory, do your best to reach Highway Village without fighting (run away/bribe) so Humphrey and Futch will join, you can start grinding a little for level or potches there. easy to reach level 35+ and 50.000 potches in about 15 mins.
Max potches trick with Hans store: A glitch in Hans' equipment shop allows you to bring your potch below zero which tricks the game into thinking you have maximum potch.

Have enough money to buy one piece of armor but not 2 of that armor. Go to Hans (your castle's armor shop) with 1 character wearing this piece of armor, and 1 character with no armor.
Buy the armor. Select the character wearing the armor. When given a choice to put your current armor in the bag or exhange for potch, choose either one. At the confirmation screen, hit cancel twice. You will still be in the buy mode, ready to select who to buy it for.
Now select the character who has no armor. Select "yes' at the confirmation screen. Now, select that character again, and choose either option (put in bag or sell). Now cancel out of all the menus. You should have 999999 potch.
Early recruitment for several characters: (Hans included) Once you ran away from Muse with Nanami and Pilika, instead of going to Coronet, do the Matilda trick and make a detour through Matilda border, twin river city, lake west town, kukus, radat. On the way you will be able to recruit Oulan, Hans, Tempton, Taki, Testsu quite much earlier. Important note: if you get Humphey/futch or remove Nanami, your game may freeze at some points
Easy leveling to 99: If you can get Fortune rune as Guardian Deity reward, it's easy to level up your characters at level 48 or less equipped with it will instantly jump to level 99 if they are the only survivor in battle versus 5 highland soldiers and 1 commander in L'Renouille.
Hunter Rune : normally, you can just get this rune after defeating the beast rune but there's an alternative method as to get the Hunter rune from Guardian Deity reward so you can start farming for stuff ealier.
Rope climbing game: there're many valuables come from this mini game and it's available to access quite early (e.g: taikioku wear, unite assist items, stats stone, celadon urns for Lebrant and Gordon quest)
North Window Army Battle: Riou (along with Nanami and Tuta (he can be recruited in Muse.)), Viktor (along with Shu and Apple), Flik (along with Tsai and Hanna (she can be recruited in Toto village.))  and Gilbert (if the player managed to recruit him previously) must battle against Solon Jhee, Seed, Culgan, Freed Y., Highland and South Window Armies. The goal is that Riou's unit attacks Solon's unit in order to get help from South Window Army. The problem is that Riou doesn't have enough offense and defense to confront to Solon's unit. If the player uses Repair Self (from Tuta) in Riou's unit, the game will recognize this as an attack against Solon's unit. 
Early Killey recruitment: After finishing the first mission from the Toran Republic, go to the war room, Shu will tell to Riou that he needs to get some rest. (Go to Riou's room to trigger a scene in HQ.) When Riou wakes up, Eilie will be there. "Before going to the war room", go to South Window. Killey will be waiting outside the trading post. The castle does have to be at the highest level & once you go to the war room, you're locked out of South Window until Riou fights Luca.
Community content is available under
CC-BY-SA
unless otherwise noted.