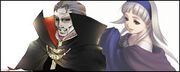 A Vampire in the Suikoden series is not so much a separate species as it is an an irreversible condition placed on humans.
Vampires first came into existence due to the power of the Moon Rune; the very first vampire was Sierra Mikain. As creatures of the night, their existence is reliant on the power of the Night Rune which holds the power to destroy vampires swiftly and easily. The first vampires originated from the original coven started by Sierra that lasted for centuries. The vampire, Neclord, stole the Moon Rune and became an ally of Windy and Yuber. From that point on vampires became a scourge to humanity. While under the power of the Blue Moon Rune, vampires had no need for blood, but once separated it became an uncontrollable urge that caused many vampires to become vicious predators or end their own lives.
Contrary to popular belief, vampires are not immortal (with the exception of the original vampire, Sierra). They do, however, live for extremely long periods of time and have been known to live for nearly a millennium. All vampires are not alike. A key difference is that 'Runic Vampires' are created by the power of the Blue Moon Rune. As such they are more resilient against normal vampire weaknesses (such as holy weapons) and have the capability to transform into a bat at will. Normal vampires are still stronger than humans, but cannot tolerate sunlight and are particularly vulnerable to holy weapons.
Vampires have been a plague to the world ever since Neclord's acquisition of the Blue Moon Rune. As such they have created many enemies in the form of vampire hunters, especially the Marley Family, Viktor, and Edge. Many vampire hunting techniques have since been created, but none are so effective as the Star Dragon Sword, the living embodiment of the Night Rune. Due to the combination of the aforementioned, Sierra was eventually able to regain the Blue Moon Rune and end Neclord's evil. However, vampires still exist throughout the world and vampire hunters continue to pursue and destroy them.
Notable Vampires
Edit
Community content is available under
CC-BY-SA
unless otherwise noted.